Installing Magento using Softaculous is a lot easier. Technically, with Softaculous, you are not the one installing Magento because Softaculous will be doing it for you. It's that easy.
However, you may find yourself reinstalling Magento if you didn't pay attention to the install parameters you gave Softaculous which it used to run the installation process. This post will help you make sure that you enter the correct install parameters according to your needs.
But first, you must check if Softaculous is one of the tools you have in cPanel under Software & Services. Take a look at the screenshot below to see what the Softaculous icon looks like.


If it's there, you're in luck! You can now go ahead with the procedures below.
Click the Softaculous icon.

On the next page, search for "magento" using the search bar on top of the left column/pane. You should be able to find Magento. If not, please contact your hosting provider.
Click on "Magento" to open its Overview page.
Then, click Install Now.
Now, to know what to do next, read the explanations below.
Choose the version you want to install
Under Software Setup, you need to select the Magento version you want to install from the Choose the version you want to install dropdown options. As you can see in my screenshot below, I've selected the latest Magento 1.0 version. However, included in the options is the latest Magento 2.0.
If you are installing Magento 2.0, just make sure your hosting server has the necessary Magento 2.0.x system requirements. Having the necessary requirements ensures your server is capable of handling both Magento 1.0 and 2.0. If it doesn't, Softaculous may still be able to install Magento 2.0 but you're bound to see some problems with the installed Magento 2.0 site.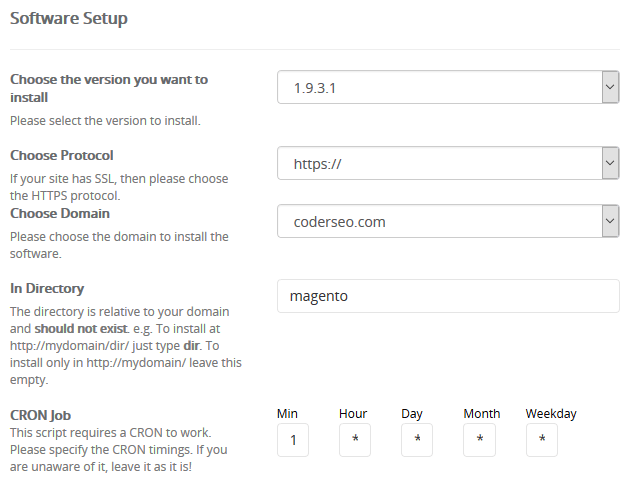 Choose Protocol
If the domain where you are installing Magento has a SSL certificate, select https:// from the Choose Protocol dropdown. Otherwise, select http://. I selected https:// as my example in the above screenshot because the domain, Coderseo.com, where I am telling Softaculous to install Magento has a valid SSL certificate.
Choose Domain
Next, simply choose the domain where your Magento site should belong.
In Directory
Softaculous will create the directory where it will install Magento. You just have to give the name you want for that directory in the text field beside In Directory. The directory should not yet exist. Just leave the text field blank if you want Softaculous to install Magento in your domain's root directory.
CRON Job
Simply leave the default settings under CRON Job.
Site Settings – Admin Path

You must change the default Admin Path into something more unique so that hackers will find it difficult to guess the URL of the page where they can attempt to login to your backend and do harm. I.e. it is obvious that https://www.yourdomain.com/index.php/admin would be a lot more predictable than https://www.yourdomain.com/index.php/admin12345. Or better yet, use something like "admin_backoffice".
Admin Username and Admin Password
Again, under the Admin Account section, you must change the default Admin Username and Admin Password into something more difficult for hackers to figure out. Click the key icon on the right of the Admin Password field to let the password generator generate a stronger password you can use.
First Name, Last Name, and Admin Email
You can leave the default values in these three fields unchanged. You can change them in the Magento backend later if you need to.
Advanced Options

You can basically leave the default field values under Advanced Options section. Without having to worry about them gives you the convenient feeling that Softaculous is really a powerful tool which lets you focus on the Magento website development that's coming next instead of spending too much time with the installation process.
I mean, not having to create the MySql database yourself where Magento should connect gives you one more good reason to install Magento using Softaculous.
Email install details to
Finally, you've come to the last field which is optional. Just below the Install button you'll see the Email install details to text field. Entering your email to receive a notification immediately after Softaculous has finished the installation process is totally up to you.
Related post: Installing Premium Magento Themes From TemplateMonster Made Easy
So, there you have it. After a few more Magento installs using Softaculous I'm sure you will be able to master the method. Let me know how it turned out.
Enjoy!